Thornsby Hall is steeped in Mystery and Stories of Ghosts
Shady Ray & I jumped in the old jalopy and set of to Nottingham and our long awaited Country House weekend, with friends the 2 J's.
I came down the stairs already to go and was informed by himself, that Shady Ray ....... that the car was not quiet ready......

So while I was waiting I had this photo of me and my vintage Luggage taken, I just love this vanity case and suitcase, both still have original keys.
The coat is a original 1940's very fitted around the waist and the trousers are from Heyday Originals.
This is the view of the front of the pile that we stayed in...... sweeping gravel drive... Porters to see to ones cases... so grand... and old..... and Tickerty Boo.....
Once settled into our room with patio we set about the schedule for the weekend, this grand old pile has so much on offer.....
Murder Mystery.
The Thornsby players performed an interactive Murder Mystery in the Grand Hall.
I really can not remember the last time I had such fun
It really was a matter of the taking part was the best bit not the winning, although there was a bottle of bubbly

up for grabs.
At

one stage I was laughing so much I am sure I missed the most important clue..... Hey Ho......
and no we did not win or guess who done it...... I was inclined to say It was The Butler......
but Shady Ray said it could not be as it was he that was killed.........
but we did have a roaring time and several pimms........ Chin Chin.
But if you really need to know .... drum roll.... it was Kate....... The Hussy ....
I am attempting to show off the Tiger that is printed on the lower right leg of my nylons, I know it looks as if I am trying to tout for business,
or stop a taxi, but I really am not.
I
love the colour of this dress, I had to have it altered to fit and this was it's first outing.
Midnight Ghost Walk

.
And Hautings........
Thornsby Hall is steeping in History of Ghost's, Hautings and thing that go BUMP in the night.....
The Midnight Ghost walk was there at the top of our list of things to book and take part in.
We gathered in the Library just before Midnight wrapped up against the cold of the night, the atmosphere was electric with anticipation, we were lead huddled in a group carrying lanterns around the ground of the Hall as we were told in hush tones the many stories of wronged house maids, suicide and blood curdling murder.
We stopped occasionally to have more in depth stories of blood stains and duels.
The hour we spent on this ghostly tour flew in a blink of an eye and before we knew it we was back in the Library ordering hot chocolate with baby marsh mellows lashing of whipped cream and sprinkles of chocolate, coffee and various night caps.
Saturday morning we all took the short walk to the Archery site, Shady Ray was in his element hiding behind trees and offering his black market goods from inside his overcoat to the good ladies and gents in the group.
Shady Ray tells me business was good, my archery on the other hand was dismal..
I managed to hit the target ones or twice, but on the whole my arrows landed in the grass in front and behind.the target...... at least I was constant .... my highest score was wait for it .........13. Ho Hum....
As a child Richard Green was my Hero and is in my opinion the one.... the only Robin Hood.....
And Saturday Night was all and more that Shady Ray, I & The 2 J's expected it to be.......
This dress that I am wearing is an original 1940's and it is one of the backbone items of my wardrobe, when ever I wear it I feel smart and comfortable.
Dominic Helpin & The Honey Bs.
Dominic Halpin and the Honey Bs are the swing band for you. With their vast repertoire, these boys will keep you entertained. They can keep the mood mellow with the smooth sound of Dominics unique voice, or pump up the sound for the party people. Whatever you require, this band will deliver... with style... imagine,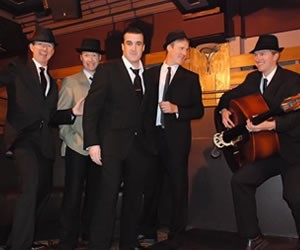 "Two shots of Italian Dean Martin croon,
a slice of
Frank Sinatra swing, blend that together with a healthy
dash of good old Elvis ... Bang! you have it "
.....Waiter make mine a double.......
rank Sinatra swing.....blend that together with a healthy
dash of good old Elvis ...... and ......... Bang! you have
....
Waiter make mine a double ….........
Shaken AND Stirred
Highly Recommended!
http://www.dominichalpin.com/site/home.html
This weekend appeared to fly by and was totally Tickerty Boo with lashings and lashing of champagne, before I knew it it was time to repacked my lovely luggage and drive home in the old jalopy.
Since arriving home I have as promised learnt (with the help from my son) how to up load photographs.... Woo Hoo....
TTFN X