What Ho

I hope you had a great day on Friday The Royal Wedding Day Shady Ray & I attended an Afternoon Tea Dance at the Iconic Art Deco Hotel The Midland Morcombe.
A

solutely spiffing, and tickerty Boo.

The Midland Hotel has long been on my list of Places to visit so Shady Ray & I just could not miss the opportunity to attended

a tea dance there, as it sounded and was absolutely spiffing, and tickerty Boo.
Ray is wearing an original Trevira 2000 top.
Trouser Retro.
Shoes. brown / beige Wing Cap Iris Allen Dance Shoes.
I am wearing an original hand made, hand embroidered cotton 1940's dress.
Shoes White Oxford Mesh Iris Allen Dance Shoes.
The hotel was originally opened in July 1933 and played host to many famous people of the day including Coco Chanel,
During it's Heyday of the 1930's & 1940's Morecombe was THE British holiday destination of the wealthy and famous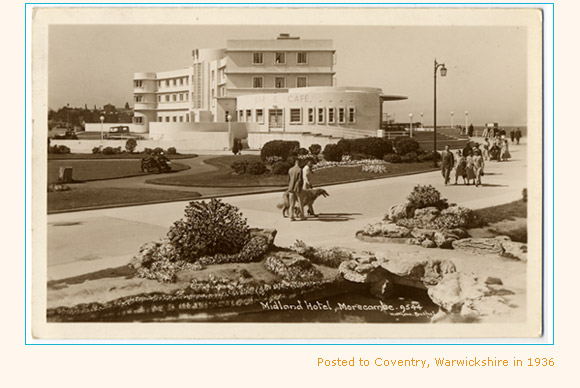 We did however manage to embrace the bracing sea air and panoramic view and eat the picnic lunch we had lovingly prepared and so careful stored in my lovely vintage wicker basket.
Tea

.
Steph & Anthony.
http://www.jazzswingdance.co.uk/
And when the Tea Dance was over we decamped to the Sun terrace of the Cocktail Lounge to enjoy Champaigne Cocktails, Pimms & Bumble Bees Cocktails and the music from Anthonys vintage windup Gramaphone and his extensive collection of 78 records
Whilst watching the sun set on a Tickerty Boo day spent with spiffingly lovely people.
Chin Chin