What Ho Lovers of Vintage .......
I have recently found that having a sat nav has opened up a whole new Vintage world to me, (now that I am no longer scared of it that is) ..... now there is no Vintage fashion Fair, Burlesque night or Lindy Hop that I can not drive to...... oh the freedom........ oh the joy....... oh the expense........
It was because of this new found freedom that I was fortunate to attend a Vintage fashion fair held in this lovely defunct Art deco Aerodrome........
Did you know that there is in fact very little Art Deco architect to be found and what there is, is often hidden and forgotten, unbelievable I know.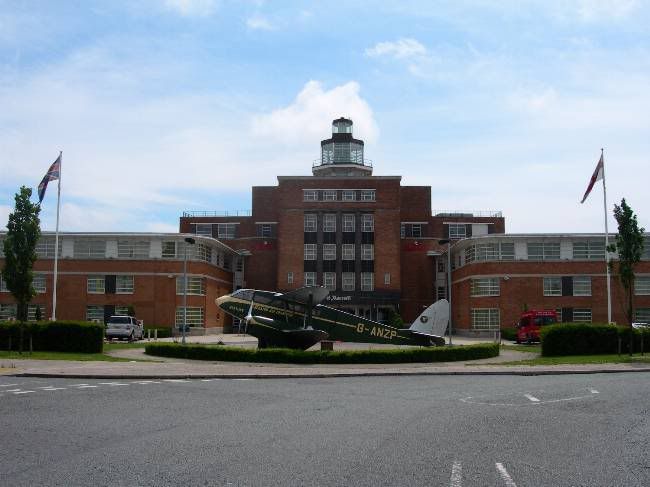 Designed by the architect Edward Bloomfield this is a typical 1930s building constructed in a gentle curve with a central octagonal tower,
Completed in 1939 this was the first purpose built aerodrome building incorporating a terminal, control tower and hangars.
During WWII
No. 611 (West Lancashire) Squadron which was formed in 1936 was based here until the end of the war.
Above is a lovely Photograh of Flight Lieutenant
Barrie Heath
of 611 Squadron, photographed in 1940 on the wing of Spitfire IIa P7883 "Grahame Heath".
I am sorry to say that the interior of this building is slightly disappointing however I had a most pleasant day out and although it was not the biggest of fairs, the quality of merchandise was good and the dealers were friendly, knowledgeable and obliging.... yes that does mean I got a good deal ...... or two.
All in all I had a tickety boo day out and brought several items of clothing, a bakelite bracelet and a lovely suitcase.
TTFN