Ordinarily I show little if any interest in the New Years Honours List this year however I have been ecstatic because

……..
Agatha Christie's debonair Belgian detective Hercule Poirot aka David Suchet is to receive a CBE for services to drama.
He played the sleuth in the long-running ITV series of which
I am a huge fan of, everything about each episode the costumes, sets, atmosphere leave me drooling.
I watched with bated breath the new adaptation of the classic Murder on the Orient Express which was broadcast on Christmas Day and thought it was
exceptional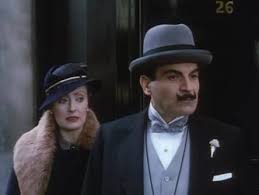 My dream day out would be shopping with Miss lemon in 1930's London and dinner with Hercule at the Cafe Royale.
A gal can dream vintage dreams.......